Description
Specifications
The "Bio-Clean & Mop" System introduces the very best method for cleaning profiled floor surfaces. 
It is an integral part of the Synergy Solutions for Cleaning.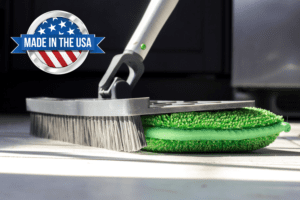 When used with Synergy bio-Clean, this 2-In-1 Tool effectively and efficiently:
Delivers detergent & digestive enzymes directly to organic soils
Attacks & consumes organic waste where tools can't reach
Absorbs more soil than ANY other microfiber mop
Brushes soil out of grout lines
Reducing your capital investment in equipment (goes anywhere, without electricity)
Works FAST! (takes about 1 minute to set up)
Works in harmony with Synergy Bio-Clean Plus (use 1 oz per filling)
Comes with a 58" ergonomically designed handle, 12" brush & mop holder, and (4) 13" absorbent microfiber pads. 
Click HERE to read the full product use directions in English or Spanish.